Pierre Alechinsky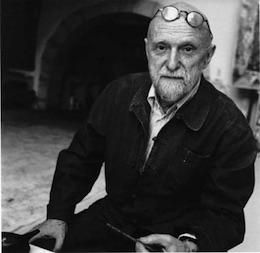 1927 (Brussels)
Living in :
Paris
Working in :
Paris
Artist's webSite
Artist's gallery
A major figure of the Cobra group, Pierre Alechinsky has been developing a strong and poetic work for about fifty years, which is willingly scriptural and brings to life a whole world of new figures. His compositions with marginal remarks distributed on the four sides of the central image allow him to instruct a multiplicity of parallel narratives. In 1993, the Presidency of the National Assembly commissioned him to decorate the wall of the rotunda connecting the Lassay Hotel to the Palais-Bourbon. Alechinsky was made Doctor Honoris Causa of the Free University of Brussels in 1994. The following year, the Belgian post office put on sale a stamp he made. In 1997, Robert Bober and Pierre Dumayet directed the film "Alechinsky, l'oeil du peintre". A retrospective of his printing works is organized at the Museo de Arte Contemporáneo and Instituto de Artes Gráficas, Oaxaca, Mexico. In 1998, an exhibition entitled "Alechinsky, Au pays de l'Encre" was organized by the Centre Pompidou at the Maison des Arts Georges Pompidou Centre d'art contemporain in Cajarc. The same year, retrospectives were held at the Cabinet des Estampes of the Musée d'Art et d'Histoire in Geneva and at the Galerie nationale du Jeu de Paume in Paris. The latter was revived in 1999 at the Museo de Arte Contemporáneo de Monterrey and Museo José Luis Cuevas de Mexico.In April 2006, Pierre Alechinsky was made a knight of the French Legion of Honour.
artist_books
---
Pierre Alechinsky ou la pluralité du geste
Yves Peyré Éditions Virgile Protéiforme Pierre Alechinsky, à l'invariable désir de rencontrer son destin d'artiste accompli et toujours en devenir. Complexe et disparate étude que la sienne, qui consiste à chaque jour suivre le même chemin par des sentiers différents. Mais l'éloge entamé doit aussi rendre grâce à l'un de ses admirateurs et amis : Yves Peyré, poète et e ...
Pierre Alechinsky – Sources & Résurgences
Daniel Abadie Éditions Hazan Créées en 1946, les Éditions Hazan ont rejoint le groupe Hachette à la fin des années 1990. Fidèles à leur credo d'explorer "l'art sous toutes ses formes", elles comptent en ce domaine un catalogue de quelques 300 titres qui touchent tout aussi bien à l'histoire de l'art moderne et contemporain qu'à l'architecture, la photographie et le ...