Dado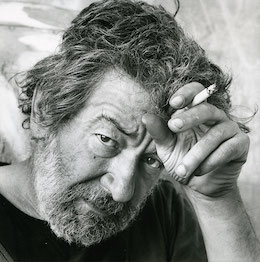 1933 (Cetinje (Monténégro)) / 2010 (Pontoise)
Artist's webSite
"I feel like I'm being knocked up like a female by the horror of the world, and I absolutely have to give birth to this. It's very painful, it's not a C-section. I carry it like a burden. Sometimes I cover these painful scenes with a veil of soft colors to soften the violence. I think I have found a formula that fits in two words in correct French to define my painting: aléatoire atroce or atrocious aléatoire." Since his first exhibition in 1958 at the Daniel Cordier Gallery, Dado has never ceased to show in his paintings the repressed part of the human being and the world. Of Yugoslav origin, he has created an "Anti-Museum" Dado in his hometown and represents Montenegro at the Venice Biennale in 2009.
Artist's articles
---
artist_books
---
Dado. Les oiseaux d'Irène
Claude Louis-Combet Éditions de la Différence Le peintre Miodrag Djuric, dit Dado est né en 1933 au Monténégro. Avec ce livre, il rend hommage à la mémoire d'Irène Némirovsky (1903-1942), romancière d'origine russe déportée à Auschwitz. Dado caviarde toute une encyclopédie ornithologique. Il redessine de nouveaux volatiles et décline tout un bestiaire fantasmagorique sur l ...