Giuseppe Penone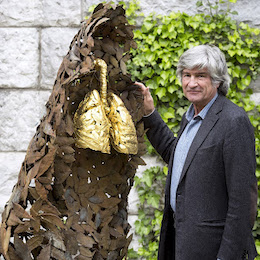 1947 (Garessio Italy)
Working in :
Paris
Artist's gallery
Giuseppe Penone is the latest member of the Arte Povera movement, where he is following a singular and exhilarating trajectory, and his work as a sculptor is distinguished by its anchorage in the land of Liguria and his native village. It is characterized by a confrontation between man and nature, and by the beauty, sometimes claimed, of its forms and materials. Her sculpture, which is concerned with questions that go beyond her, such as those of time, being, and becoming, evokes the Kantian dimension of the infinite and the sublime as an attempt to define the uncertain. Focusing as much on the creative process as on the work, the sculptor tries to capture "the flow that is constantly metamorphosing" that runs through nature and the human being.

Excerpt from Philippe Piguet, in the n°37 of Art Absolument, published on September 10, 2010.
Artist's articles
---
artist_books
---
Giuseppe Penone
Daniela Lancioni, Richard Peduzzi, Jean-Christophe Bailly, Graziella Lonardi et Caudio Abate. Éditions Hazan L'exposition dédiée à Giuseppe Penone du 30 janvier au 25 mars 2008 par l'Académie de France à Rome permet d'établir une nouvelle monographie du célèbre artiste italien. Membre de l'Arte Povera, Penone a su redéfinir le processus de création en se basant sur l'in ...
L'or dans l'art contemporain
Sous la direction de Anne-Marie Charbonneaux Flammarion Selon les dernières théories des astrophysiciens, l'or serait issu du cosmos, synthétisé par les étoiles durant des millions d'années puis régurgité avec éclat par l'érosion fluviale des roches mères. Paillettes, pépites, matériau inaltérable défiant la logique du temps. Le chatoiement de ses reflets au jaune franc et c ...