Mark Brusse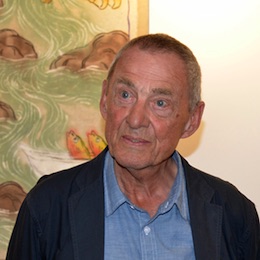 1937 (Alkmaar)
Living in :
Paris
Working in :
Paris
Artist's gallery
Mark Brusse's large pastel drawings and sculptures of assembled objects are charged with the same poetic power. Drawn from a Far Eastern culture, their iconography reflects on the relationship between the human and the divine.
The artist is also represented by the Galerie Anne-marie et Roland Pallade in Lyon.

Artist's works
---
Mark Brusse Seven Clouds. 2014, lithographie originale sur papier Hanemühle 300 g, 105 x 75 cm. Signé par l'artiste. Tirage : 30 exemplaires. Vous pouvez nous joindre au : 01 45 70 88 17 Frais de port : - France et Europe : 30 € - Reste du monde : 50 € ...
artist_books
---
36/36 Les artistes fêtent les 80 ans des congés payés
À l'occasion de l'exposition 36-36, les éditions Art Absolument publient le catalogue de l'exposition. Cette publication de 116 pages avec de nombreuses illustrations couleurs permet aux lecteurs une immersion dans l'univers des 36 artistes exposés. Plus généralement, ce catalogue propose une réflexion sur les liens que les artistes entretiennent avec l'année 1936 à travers un ensemble ...