Jean Le Gac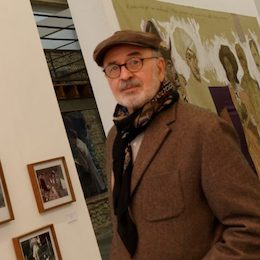 1936 (Alès)
Living in :
Paris
Working in :
Paris
Artist's gallery
"I make documented narratives, a kind of artistic tracking, it seems to me. I have moved away from the art that wants definitive or ephemeral works. The work is rejected in a future that I am in no hurry to reach. For this I need to be alone, to evolve locally in an indeterminate temporal zone with rapid back and forth between past and present."

The artist is also represented by the Galerie Anne-marie et Roland Pallade in Lyon

Artist's movies
---
"Demain dans ma collection avec Jean Le Gac"
Si vous avez manqué notre rencontre, retrouvez la voix de Jean Le Gac dans
« demain dans ma collection » le podcast d'Art Absolument par Christine Siméone.

Watch
artist_books
---
Jean Le Gac, l'effraction douce
Texte de Laurent Olivier Éditions la Pionnière Jean Le Gac, l'un des grands artistes français d'aujourd'hui, a construit son œuvre sur "le rêve d'une vie de peintre". À travers ses multiples interventions sur la surface de la toile – peinture, emprunts, photographies, collages et textes – et au-delà, il traque son double fictif : l'artiste, par la banalité de ses a ...
La chasse au trésor de Jean Le Gac
Daniel Abadie et Michel Butor Éditions Réunion des musées nationaux "L'archéologie est aussi chasse au trésor." Un point de vue que Jean Le Gac défend à travers cet ouvrage, suite à la visite du musée d'archéologie national de Saint-Germainen- Laye. Il met en parallèle deux univers et les incorpore l'un dans l'autre. Le peintre qui fait surgir de sa toile un élément ...