Melvin Way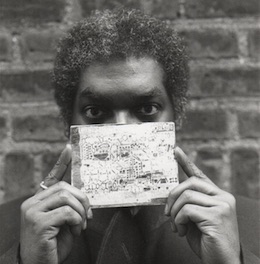 1954
Artist's gallery
With the exhibition of the works of the 14 nominees for the Prix Art Absolument for Outsider Art, a broad – updated – vision of art brut is emerging. All chosen by the artist Éva Jospin during the Outsider Art Fair which was held in Paris last October, these artists invite their obsessions within the framework of the work, but above all their power of invention of forms and worlds. Thus, the American Melvin Way was named winner by a jury of five personalities: his art of nothing and everything, developed for a time out of sight, takes on all the appearance of a talisman.

"I don't draw, I do repair science, medical science," explains Melvin Way to the camera of director and outsider art collector Bruno Decharme. Born in 1954 in South Carolina, then brought up in Brooklyn by a relative of the family, the world of the man whom Jerry Saltz describes as a "visionary mystical genius" rubs shoulders with ours, but with other logics. For years, Melvin Way has been making little notes, assemblies of scraps of paper sometimes covered with adhesive tape, where a whole obscure and magnetic science is added together and developed, made up of ballpoint pen annotations of mathematical formulas, diagrams or of sheet music. Carried in his pocket or hidden in books for years sometimes, they can be re-annotated, seeming to exercise the function of a talisman that is partly illuminated by the words of their author.

Artist's movies
---
Melvin Way
Film réalisé par Bruno Decharme & Barbara Safarova
Année 2016
Montage César Decharme, Musique Lonely Band - Martial Foe 2013
production : © abcd ,& SystemeB production
durée : 22,34""
Watch