Juan Garaizabal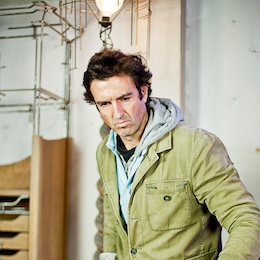 1971 (Madrid)
Living in :
Madrid
Working in :
Madrid, Berlin, Miami
Artist's webSite
Artist's gallery
I've been meditating a great deal on the question of travel because I have, in fact, been moving between continents for a long time. If tomorrow someone offered me an interesting project to do in Cape Town, South Africa, I'd leave immediately. I'm currently travelling for my work among three different studios, one in Berlin, one in Miami, and one in Madrid, but I'm also developing major projects for China. I've been diligently studying Chinese and I already know the language well enough to be able to speak up and take part in an artistic debate. When I create a new work, I look for the most significant elements in the history of a city or a country. But, as the work is concerned with public space, it is not enough simply to imagine a sculpture and then produce and install it. I want my creation to raise questions and elicit reactions


Extract from the monograph published by Editions Art Absolument.

JUAN GARAIZABAL
ÉDITIONS ART ABSOLUMENT
Du singulier à l'universel
From singular to universal

Artist's movies
---
"Tomorrow in my collection" with Juan Garaizabal
Interview between Juan Garaizabal and Christine Siméone

"Juan Garaizabal is not the kind of person who hides behind his works. He reinstalls the memory of palaces, chapels, lampposts by building their metallic silhouettes in the places where they once stood and where they no longer stand today..."
Watch
artist_books
---
Juan Garaizabal, du singulier à l'universel
L'artiste espagnol Juan Garaizabal et sa galerie, Bogéna Galerie ont confié aux Editions Art Absolument la réalisation d'une monographie parcourant plusieurs de ses installations à travers le monde. "Mes Memorias Urbanas sont des installations artistiques de grande taille qui visent à recréer l'esprit de récits héroïques. Le temps n'existe pas. La seule réalité, ce sont les év ...