Kader Attia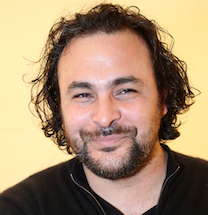 1970 (Dugny)
Living in :
Paris
Working in :
Paris
Artist's webSite
Artist's gallery

Kader Attia is a witness of his time and sees in art a means of expression and reflection on the questions that are dear to him, such as the difficulty to live between Western and Eastern cultures, Islam as a community withdrawal, or the complex relationship between the dominant culture, that of consumption, and the refractory identity of emerging countries. Its primary purpose is to question the spectator about current society and its identity drifts.

I try to trigger a political feeling in the spectator. My work is like all of us face reality. What interests me is when a work poses a political question not only from a linguistic, formal, but more from an ethical point of view."

The evolution of his work tends towards a greater part of poetry, he flees from the brutality that generally takes political works. If his first testimonies are direct (photographs), his works will evolve towards installation through the creation of the Hallal brand.

"I am now trying to escape the perhaps too loud, too noisy character that is found in political art in general and in my work going back a few years."

Kader Attia has a special relationship with architecture and is very interested in the work of Michel Foucault and Le Corbusier, as the work attests: Building, deconstructing, rebuilding: The utopian Body.

The work of Kader Attia can be described as a symbolic exploration of the traumas and fears of his own childhood. Claiming the plurality of its cultural affiliations (popular and cultivated culture, city culture, childhood culture, etc.).