Hicham Benohoud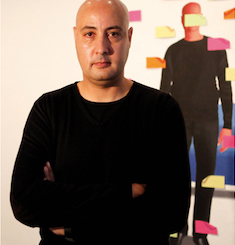 1968 (Marrakech)
Living in :
Paris
Working in :
Paris
Artist's webSite
Artist's gallery
Valeur des oeuvres
(donnée à titre indicatif)
: Photographies between 2 000 et 3 000 €
Hicham Benohoud testifies, through arranged situations, to an oppressive atmosphere, where the gestures of liberation are not themselves experienced as deliverance. The singularity established does not take on a heroic appearance but is inscribed at the heart of the straitjacket that the class represents without supporting the idea. He is represented by Agence VU, Paris.
artist_books
---
Catalogue de l'exposition "Traits d'Union. Paris et l'art contemporain arabe"
This bilingual (French-English) publication of 208 pages illustrated with 200 color images is the catalog of the exhibition of the same name taking place at the Villa Emerige, Paris 16th from October 15 to November 12, 2011. In addition to placing the works presented during the exhibition in the context of the personal approaches of each of the artists, it offers a plurality of points of view o ...