ST-ART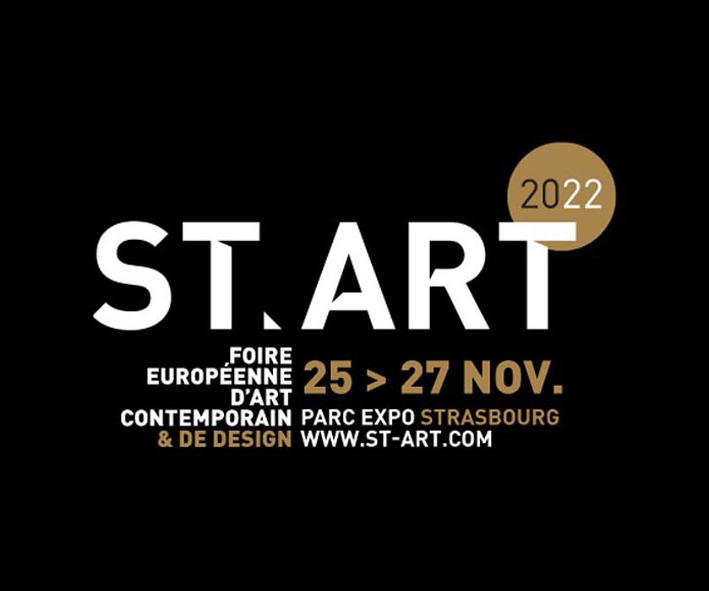 Quand
---
26/11/2021 - 28/11/2021
La foire
---
Meet us at ST-ART from November 26 to 28, 2021 at the Parc des Expositions in Strasbourg. Our booth is number 1B08 and we will present two artists, Degann and Barbara Navi. We look forward to welcoming you there.


ST-ART, France's first regional contemporary art and design fair, will celebrate its 25th anniversary from 26 to 28 November 2021 in Strasbourg, a city of culture, gastronomy and architecture.

In November 2021, ST-ART will welcome its public and its exhibitors in a scenography at the service of the works and the artists. As in previous years, the fair will also present a "snapshot" of the support and involvement of public authorities in contemporary creation through exhibitions designed by the Grand Est Region and the city of Strasbourg. ST-ART will question, with the exhibition "FUTURAE The artist questions the world", the very definition of the artist and the social role of the work of art as an aesthetic, cultural and ethical commitment. - Guest artists: Vaughn Bell, Jérémy Cobé, Ha Cha Youn, Clay Apenouvon, Ackroyd & Harvey, Luc Lapayre - Curator: Patricia Houg, Artistic Director.

Until then, the digital communication of the event will be strengthened in order to allow ST-ART gallery owners already involved to benefit from maximum visibility and for visitors, collectors and art professionals to continue their connections with the artistic proposals.


This year, there will be no institutions but an opening to design. Why this change?
In France, design fairs are still fairly recent, but designers and visual artists often have common concerns. At ST-ART, this dialogue, which is not that of antiques or vintage, is carried by several exhibitors, such as L'Équipée, whose studio is based in Nairobi and which breaks away from preconceived ideas about design in Africa. Steven Riff, whose gallery The Sloughis is based in Strasbourg and Bologna in Italy, brings this exchange to life with pieces for which artists such as Matta, Man Ray and Allen Jones have collaborated. There is also an exhibition on seating, which brings together chairs by important designers that are still in print today and the vision that exists in paintings made at the time of their creation.

Among the galleries, are there any that you consider to be a "base" for the fair? Pascal Gabert, Geneviève Mathieu, AD Galerie have been present every year since 2015, for example...
Indeed, some galleries have been here for a long time and have been able to train their collectors: we have 30 to 40% renewal each year among the 80 or so exhibitors. This allows us to show other artists, which is what the "regular" galleries also do, by coming back with certain artists that the public knows and appreciates and the work of a new artist. Because it is the aim of a fair like ours to make discoveries.


Extract from the interview with Patricia Houg published in the N°90 issue of the magazine Art Absolument.