Digital Creation and postmemory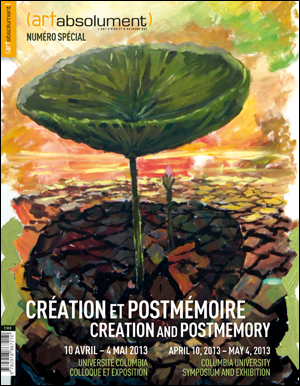 Dear readers,
The digital version of your magazine /art absolument/ is now available on all operating systems and on all supports.
Within 24 hours after you place your order, we send you the link and pass word you need to get the digital edition of your magazine.
Numéro spécial publié à l'occasion de la manifestation "Création et postmémoire": colloque et exposition du 10 avril au 4 mai 2013 à la Columbia University, New York.
Bilingue français/anglais
Sommaire
4 Éditorial
Par Pierre Bayard et Soko Phay-Vakalis
Editorial
By Pierre Bayard and Soko Phay-Vakalis
Textes/texts
6 Postmémoire
Entretien avec Marianne Hirsch
Postmemory
Interview with Marianne Hirsch
12 Postmémoire au Rwanda
Entretien avec Assumpta Mugiraneza
Postmemory in Rwanda
Interview with Assumpta Mugiraneza
16 Postmémoire et secret collectif en Bosnie
Par Pierre Bayard
Postmemory and the collective secret in Bosnia
By Pierre Bayard
21 En connexion avec la douleur
Par Anne Aghion
Connecting with the pain
By Anne Aghion
Exposition/exhibition
24 Ateliers de la mémoire
Par Soko Phay-Vakalis
Memory workshops
By Soko Phay-Vakalis
29 Plongés dans les archives de l'enfer
Par Anne-Laure Porée
Deep in the archives of hell
By Anne-Laure Porée
33 Vann Nath, Séra et les artistes cambodgiens émergents
Par Soko Phay-Vakalis
Vann Nath, Séra, and Emerging Cambodian Artists
By Soko Phay-Vakalis
Add to cart